So you're ready to take your business online? That's fantastic. Whether you have an online store (eCommerce) or want a website that your customers can go to for information, that's a great business move.
Starting something new can always be exciting and a bit daunting — and business websites are no exception. But don't worry, we are here to help you every step of the way!
Starting with creating a list of all the things you will need to get your website designed and launched, so folks can start finding your business online!
What You Need to Build a Website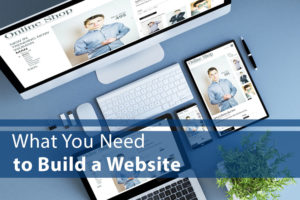 We always tell our clients, start with the must-haves and work from there. When it comes to building your website, there is no sense in waiting around until you have absolutely everything — you'll end up wasting time. Instead, focus on the must-haves, the should-haves, and then the extras.
Website Must-Haves
Domain Name
If you want a website, you need a domain name (your website's URL). Think of your domain name as your website's address — without it, no one would be able to find you or get directions.
And a website that no one can find is no good, including complicated domain names. We suggest keeping it simple. 
Many folks use their business name as their domain name (like exposureone.com). Others use keywords or business attributes. For example, if you had a coffee shop in Orlando, you could use orlandocoffee.com or coffeeinorlando.com. You get the bonus of having your two most searched terms as your domain name: Coffee and Coffee in Orlando.
You will purchase your domain name from a Domain Registrar, like GoDaddy or NameCheap, which leaves you in full control and with full ownership.
Your domain name is up to you, but remember, keep it simple and something folks can 1) easily find and 2) easily remember.
Website Hosting
If your domain name is your address, Website Hosting is your house. It's what "houses" all your website files, and it's required to keep your website online and active.
When shopping for a website host, we suggest looking for a few things:
Installable SSL Certificates

Nightly Backups & Security Protocols

Easy-to-Reach Support Team
There are a ton of different website hosts out there. At Exposure One, we include your first six-months of website hosting with your site's build.
Design Ideas
What do you want your website to look like? Better yet, what do you want it to function like? And are you selling products online?
Your website design is more than looking flashy and enticing (though that's always fun). The design also has a ton to do with how you want users to navigate through your site.
Do you want an eCommerce shop where people can shop online? How do you picture that?
Do you want a video to play when people first come to your site to let them know what you are about? Or do you want an image with an email capture form?
The design is unique to your tastes, needs, and business. To help get your creative juices flowing, check out some of our past website builds for design inspiration.
Website Content
Next comes perhaps one of the most daunting and time-consuming tasks — getting your website content together.
Like your site needs, your content also helps shape the design, especially with the homepage. Focus on what you can do for your customers. What services do you offer? How can you do to make their life easier? Why do they need your products?
Having trouble putting words to paper? Hire a freelancer. They can help put your ideas and thoughts into useable content. You can find content writers in your community or check out sites like Fiverr and Upwork.
Website Should-Haves
Logo
An excellent logo looks fantastic in the Header/Menu of your website. It also adds an immediate personal touch and gives your design some branding (from the colors, font, and aesthetic) to build off of.
When designing a logo, you'll want to keep a few things in mind:
Include Your Company Name.

Make it Catchy. Don't just have your company name; add a relevant embellishment, so folks get an immediate feel for what you offer. 

Have a Version that is Wider than Taller — needed for websites that prefer horizontal designs

Create a Version that Fits in a Square Setting — needed for social media

Get a Colored Version, an All-Black Version, and an All-White Version — this gives you versatility and variety.
Email Hosting
For business emails, it's a good and professional move to get an email that matches your domain name.
That is where email hosting comes in. Separate from your website hosting, getting an email that matches your domain is a specialized service. Often you can get these services through your Domain Registrar, or you can use a service similar to G Suite through Google. 
Nothing ruins the professional mode, like going to a beautiful website and seeing a @gmail or @hotmail email at the bottom. Don't be that person.
Analytics 
Once your website is up and running, it's essential to know who is coming to your site. And from where? What pages are they visiting the most? 
All those answers can be found by installing and configuring analytics for your website. 
After designing and launching your site, we will install Google Analytics, allowing you a full range of stats at your fingertips. WordPress also offers several Plugins that provide a range of website analytics and data if Google Analytics is too much or too daunting.
It doesn't matter where you get your numbers from — as long as you are getting them. 
Website Extras
Blog Articles
Once your website is up and running, it's time to start adding content. A great way to do that is with informative, relevant blog articles. 
While not a priority one for your website launch and design, make sure to check-in with your designer to verify your website comes with a blog page. That way, you aren't stuck having to 1) design it yourself or 2) wait for your web designer to finish it when you have blogs ready to go.
Email Capture and Email Campaign
Your website should launch with a Contact Us Form. But, does it also have an eNews email capture and offering?
A great way to get folks' emails and keep them in your marketing rotation, an eNews sign-up or free download sign-up, gets people to give their emails in exchange for something.
If you don't have an eBook or download ready to go — that's fine. Creating an eNews blast on a weekly, bi-weekly, or monthly basis that lets your subscribers know what you're up to is an excellent way to 1) create a community and 2) share specials or happenings. 
Take a look at Mail Chimp, Kartra, Constant Contact to see which Email Software (and price point) works best for you. From there, you can integrate it with your website forms, and you're off to the races!
Building a Website with Exposure One
We know the process of building a website can be daunting. So, why don't you unload the stress?
At Exposure One, we pride ourselves on offering affordable website design services, and that includes us being there every step of the way. We can direct you to your next steps and help you create a plan — and the website of your dreams!