Social Media is free marketing for your business if you can get people to follow and engage. It's all about stopping them and making them pay attention, and that's done with your posts and content.
In this fast-paced world, you have mere seconds to grab someone's attention. And once you have it, you have to fight for those engagements.
So, if you're one of those social media users scratching their heads wondering how to get people to engage with your business, take a look at the tips below.
Elements of Engaging Social Media Posts
1) Add Photos or Videos
Photos and videos are pretty and attention-grabbing, precisely what you are after with your social posts. Just reading text will make everyone flashback to their school days, and you don't want that.
So make sure all your posts come with a photo or video. 
That includes the link preview area. If you share a link that doesn't pull up a photo or any preview information, don't share it or embed the link in a photo caption. Leaving it blank looks dull, precisely what you are trying to avoid.
2) Hashtag, But Not Too Much
Well placed #hashtags can help expose your posts to folks that don't follow you but may follow that hashtag or show interest in similar posts. To find hashtags that work for your business, take a look at comparable companies and start clicking around within the community; you'll begin to see a few that appear regularly. 
But don't go overboard. Keep it to five to seven useful hashtags.
3) Add Content
Every post should have some content. Photos and hashtags only go so far as to share your announcement or purpose of the post.
This leads us to…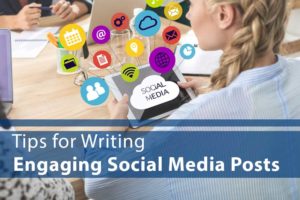 Tips for Writing Engaging Social Media Posts
1) Find Your Voice
Every enticing social media account has a voice, a personality. They aren't just talking at their followers; they let their personality shine and engage with everyone.
You want to make your followers feel like they are talking to a person, not a business or computer. Don't be afraid to interject a little humor, a touch (and we mean a little) bit of sass, and perhaps a light-heartedness. Unless your post is serious in nature, keep it fun!
2) Edit Your Posts
Don't be that long-winded poster. After writing your post, re-read and edit. Take out any extra words, a little fluff is fine, but you don't need to have five "greats" and six "amazing's." Keep it simple and to the point.
Check for spelling and grammar mistakes. While writing mistakes will undoubtedly add to your "human" persona, it takes away your credibility. If spelling and grammar were never your strong suit, try using software like Grammarly while writing your posts.
3) Ask Questions
People want to feel invited. They may not just jump up and volunteer their likes, comments, and shares without feeling like they had an invitation first.
So, instead of just talking at your followers, ask questions. Get them involved.
If you're hosting an event, see what people are looking forward to the most. Ask them what new food specials they want to see. What was their favorite thing about your shop? Ask questions and encourage engagement.
4) Be Positive and Present
No one wants a negative Nancy; they want to feel uplifted and excited —or else why visit, shop, or engage.
So when posting, always use positives, never negatives. And keep it present, no passive voice or past tense. Your future sales don't live in the past; they are in the future, so that's how you should be addressing your followers.
When done right and with engaging content, Social Media can be your next sales goldmine. It's all about setting up real relationships with your followers, letting them connect with you beyond the business name.
Don't have the time to manage your social media for your business? Or maybe you're still lost? Contact Exposure One today, we offer Social Media Marketing Services that will help you start engaging with your online community.