We talk a lot about optimizing your website for Google — and your users. But, there is one other step for catching Google's eye and ranking within your local community — your Google Business Listing.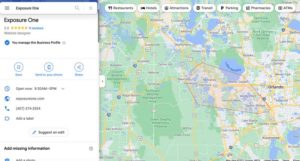 Unlike Google Ads, your Business Listing (also known as your Business Profile) is a free service. Who doesn't love free marketing opportunities? Not only that, Business Listings are what Google pulls from when folks search on Google Maps and what appears in quick Google Searches for hours and locations. And like Yelp!, Google Business Listings also take customer reviews.
Your Google Business Listing is important and deserves a little bit of your time. Like your website and social media profiles, it's not a get-it and forget-it situation. Google Business Profile takes managing if you expect results and traction for your business. 
Setting Up Your Google Business Listing
Claim Your Google Business Listing
As with most things, it starts with taking control. The first step to optimizing your Business Profile is claiming it. The how varies depending on your computer or phone (click here for steps), but the 'why doesn't.
If you don't claim your Google Business Profile, someone else might. That means someone else is controlling your Listing. Or it could go unclaimed, and that leaves Google to fill in the pieces when folks search for your hours or leaves you off local searches entirely.
Add Your Business Information
Tell folks about yourself and give them the information that they're looking for, like:
Business Name

Services

Quick Description of What You Offer

Hours of Operation

Address
More than likely, Users go to your Business Listing for the quick stuff like hours of operation and address, so make sure to have that readily available — and updated. If your hours change, make sure to update them on Google. And if you have special holiday hours, add them. No one wants to drive out to your business only to find the doors locked or that you've moved.
If COVID temporarily shuts your business down, you can add temporary closure hours and make sure to post an update, so folks know.
Upload Images of Your Business
People judge a book by its cover. They want to know what they are getting into before they make an effort to change out of their loungewear. 
Adding photos of your business gives folks a taste of who you are. If your company sells clothes, add a shot of your retail floor and some of your best-selling items. If you're a restaurant owner, share a picture of your seating options as well as your delicious foods. 
Make people more excited to come to see you by giving them a preview.
Managing Your Google Business Profile
Once your Google Listing is set up, you may think the hard work is done. And for the most part, the heavy lifting is. But, you'll want to stay active to show the local community and searches that you're open and ready for business.
Respond to Reviews Promptly — Good or Bad!
Like Yelp!, customers have an opportunity to review your business on your Google Business Listing.
You should always respond no matter how many stars (1 thru 5) or how long the comment is. For good reviews, it may be a quick "Like" and a "Thanks for visiting, looking forward to seeing you/working with you again."
If it's a bad review, this is an opportunity to show the community you care! Acknowledge the reviewer's complaints and ask if there is a way to speak with them directly so you can improve your business. Reviewers can change their ratings, so not only could you gain valuable information, but you could improve their opinion (and public rating) of your business.
Either way, never let a Google Review go unacknowledged.
Post to Your Timeline
Let folks know what's been going on, hype up your latest sale or event, and share some of your recent website articles. It doesn't have to be a daily or even a weekly thing. Start with bi-weekly updates and increase as you have time.
Stay on Top of Your Business Information
Google offers Users a chance to confirm or add to your Business Listing Information. While most of the time, this helps keeps things current, sometimes something gets added that isn't correct.
Log in semi-frequently to confirm all of your business information is correct. This is also a great time to update business hours as needed or add new services your business offers.
Monitor the User-Added Photos
Users can also add photos they took while at your business. It's a great way to expand your community as folks share images, enjoy a beer on your patio, or your technicians hard at work.
But sometimes a photo slips in that isn't for your business or maybe isn't appropriate. If that happens, there is a reporting system and removal process.
Getting the Most Out of Your Google Business Listing
Google Business Listings are a great way to target local traffic and expand your community — if you utilize them. The first step is claiming and setting up your Business Profile. The second step is managing it and staying on top of the information others add.
Sounds like too much work? We get it! And we've got you covered. Contact Exposure One today at 407-374-2924. We offer Social Media and Google Business Listing Management Services that help your business thrive without adding more to your plate.