When you think of networking online, you should think of LinkedIn. One of the dedicated networking social platforms, LinkedIn isn't just for looking and applying for jobs. You can also advertise your services, connect with business professionals and your community, and show your knowledge and expertise in your field. 
But, none of that is possible without first setting up a LinkedIn profile (and business page when applicable). And we don't mean just the bare bones of the requirements to have a profile — we mean setting it up right! Because if you're going to do something, do it the right way.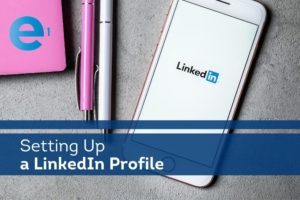 Setting Up a LinkedIn Profile
When it comes to LinkedIn, think professional. After all, you're there for professional networking. While having a little fun with your posts goes a long way, keep it professional when it comes to your profile.
So, what do you need? Let's dive in.
Profile Picture
As we said, think professional. With your picture being the first thing folks will see (as well as your avatar while posting and commenting), it's essential to put your best foot forward.
What does that look like? Make sure your LinkedIn picture is:
recent

headshot style, with your face taking up at least 2/3rds of the space

you in your work clothes

you smiling

you without sunglasses or a hat
Background Image
Your background image adds a little flair to your profile, giving connections a quick visual glimpse into who you are. So, chose a photo you like that represents your business or your interests.
And make sure it's the right size! As of March 2021, the ideal LinkedIn cover photo size is 1128px wide by 191px tall.
Headline and Profile Summary
The next area to tackle is your "About Info" for your profile.
Your profile Headline is a short shoutout to what you do. But, please don't make it just your job title — after all, we are all more than our job positions. Keep it relevant to your business, but add a bit of what makes you unique.
For your summary, dive into a bit more. Keep it a balance of what you do for work and fun. People like to see that you are still human, not just a working machine!
And whatever you do, don't leave these areas blank. You're there to network, and that starts with sharing a bit of yourself with the world.
Add Your Job History
Your current and relevant job history, that is. No need to go back to your high school job. Keep it to jobs that helped you become an expert in your field.
Make sure to add a short description or list of your responsibilities for each position. Keep the verbiage in the present tense; you still have those skills! And stay away from the cliche buzzwords like "expert," "certified," "focused", etc.
Add Your Degrees and Certifications
You certainly earned them, so make sure to add them. There are areas to add to your education, work certifications, and skills. Take advantage of those areas.
Invite Colleagues and Clients to Endorse You
And that starts with handing a few out. Find a few connections that you've worked with and feel confident endorsing their skills areas.
From there, reach out to a few connections with a personal and polite message asking for their endorsements of your work and skills. Keep it to folks, whose opinions matter to you! 
Start Posting, Sharing, and Networking
With your profile in creation and looking top-notch, it's time to start networking. 
Try searching for some in-person connections and adding them as an online connection. LinkedIn will start to have more suggested connections as you grow, allowing you to expand your online community. 
Do I Need a LinkedIn Business Page?
If you have a business, the answer is yes. It's free marketing and networking, so the better question is why wouldn't you have a LinkedIn Business Page?
Luckily you already set up your personal LinkedIn profile, a requirement to start a Business Page.
Setting Up a LinkedIn Business Page
As far as setting up your business page, it's the same process as your personal profile.
You'll need a profile picture (your logo works great!), a cover image (make sure to add your website and contact info), and an About Section. Instead of highlighting yourself, use the headline and summary to tell folks what you can do for them. 
Once created, start posting! Like the rest of LinkedIn, keep to a more professional tone and stick to publishing articles and information that can help your connections. 
Online Networking with LinkedIn
When it comes to networking and making professional connections, LinkedIn trumps all the other social media platforms. It's literally what it was made for. And like other social networks, it's free! All it takes is a little effort and know-how to create your profile, and then you're ready to start connecting.