Having your website online takes a number of things: domain, site files, and website hosting. Each has a unique but equally important role when it comes to your business website. 
Confused why you need all three? It's like a three-piece puzzle; you need all three to see the entire picture and for folks to use your site. Your domain is your URL. That URL points to your website hosting. Your website hosting houses your site files (design and content). Any missing link causes your site not to be viewable online.
But, what if you want to use a different website hosting company? Whether it's from a change in price, a desire to try something new, or a compatibility issue, you can always move.
Moving Your Website to a New Hosting Company
When it comes to your website's background and inner workings, things can get quite confusing. So, let's take some of the mystery out of moving to a new website host. 
Step 1 – Finding a New Host
Naturally, if you're going to move, you will need to find a new host to move to. There are several different options (and prices) for website hosting services these days.
When deciding on a new host, there are a few things you'll want to keep in mind:
Security – What security measures are offered? Do they take nightly backups? Do they offer SSL Certifications (and at what cost)?

Compatibility – Does the website hosting have the capabilities you need? If you have an add-on function for your website, will that work with the new host?

Speed – Many hosting companies use several servers and server networks to deliver fast load times

Reliability – Check out some reviews online. Are other folks having issues with their websites on that host? Do sites hosted there crash frequently?

Support – The website world is ever-changing, and that can come with some hiccups. Ensure your new hosting company has an easily-reachable support team ready to help. 
Step 2 – Accessing Your Current Host and Site Files
Before you can move on, you'll need to access your old hosting* and site files.
Each hosting company has a set of items that are needed to complete the migration. Now is a great time to go over the list of needed items and verify you have them all before starting the migration process.
*At Exposure One, we send every client and website owner a hosting collaboration invite which gives you full access to the hosting cPanel/dashboard — after all, you own your site 100%. If you need that invitation to be resent, please ask!
Step 3 – Migrating Your Site
Once you have the items you need, you are ready to move your website. Migration services are not provided by the hosting company you are leaving. You will need to work with your new website hosting company during the migration process.
Some hosting companies offer migration services, either free or paid. If you're not sure what it takes to move your site, we'd suggest utilizing these migration services.
If migration services aren't available or you want to handle the move, you'll want to check their support forum for steps on how to migrate your site.
Step 4 – Testing the Site
Once your site has been migrated and reconfigured, you'll want to test it out before taking it live.
Most hosting companies offer a "staging mode" to handle this step. It mimics what your live site will look and function like. That way, you can address any issues in design or functionality before taking the website live — a much less stressful testing atmosphere.
Step 5 – Updating Your DNS Records
Once your site has been moved and is working in the staging environment, it's time to take it to live! 
That means updating your DNS Records at your Domain Registrar to point to your new website. If you're are unsure what that entails, click here to read our steps to update your DNS Records.
Once those DNS Records have been updated, and the SSL Certificate configured, take a backup of your site. 
Step 6 – Cancel Your Old Website Services
Congrats, moving your website to a new hosting company was successful. Out with the old, in with the new! Since you won't be needing their services, it's time to cancel your old website hosting services.
But, before you do, we suggest taking one last backup of your site and storing it somewhere on your computer — just to be safe.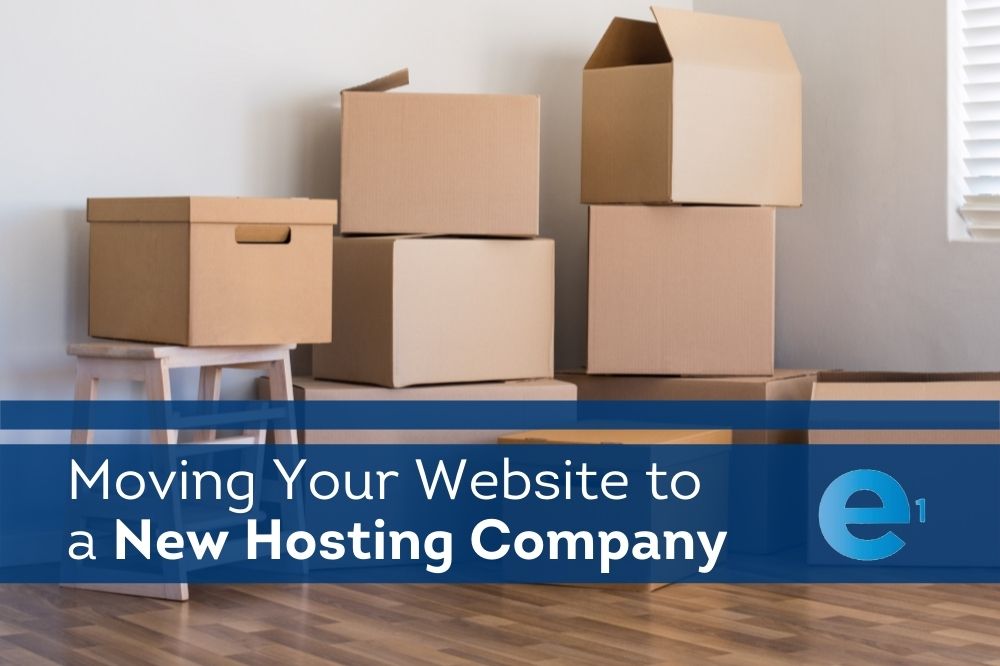 Website Hosting – Do What is Right for You!
Each website hosting company is unique, which means you have options. We encourage you to find the one that best fits your needs and the needs of your website.
Exposure One offers web design services as well as social media and online marketing packages. Ready to take your business online? Contact us today at 407-374-2924.