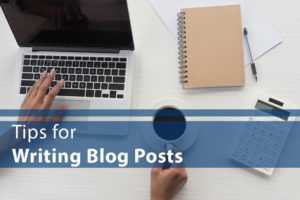 Blog posts and articles are an excellent way to add new content to your business website, keeping your site relevant and fresh.
But when it comes to having a blog for your business website, it's hard to know where to start. And when it comes to writing blog posts and posting, there are a lot of little nuances to keep in mind (whether it's to please Google or your readers).
Tips for Writing Blog Posts for Your Business Website
When posting articles to your site, you need to think about not only your content, but post settings, keywords, SEO, and images as well. It can be a lot to process, but we are here to help. 
So, let's start at the beginning, writing great articles for your website.
Write for Your Readers, Not Google
We talk a ton about what you can do to rank well on Google, and posting blogs is undoubtedly one of those things.
But, all the edits and additions we are about to mention should be add-ons, not the main course. When you're writing an article, make sure you are writing for a person (and not a computer). 
This means avoiding things like keyword stuffing, excessive links, and multiple sentences saying the same thing, but in different ways. 
Instead, use headers, bullet points, and a few keywords or phrases to get your point across in an organized way that readers can understand (without all the extra fluff).
Choose a Keyword or Phrase Before Writing
Before writing, you probably have a topic already in mind (or you wouldn't be able to write). But, make sure to narrow that topic down into one keyword or phrase before writing.
Not only will this help narrow your focus and make it easier for your readers to follow along, but it also lets Google know what your article is about. 
When choosing a keyword, it all comes back to your readers. Think about what you would search for if you wanted to look for your article or what question you answered with your blog post.
Once you have your keyword and focus, make sure to include it throughout the article. It's suggested to use the keyword only a handful of times (around 5-7 to be exact) and include it in:
Article Title

URL

First Paragraph of Your Article

A Header or Two

A Few Places in the Paragraph Content
Content-Length When Writing Blog Posts
While length isn't a single determinate in the ranking, your article needs to be long enough to convey your message.
A minimum of 550 words is suggested for articles and a minimum of 750 words for pages and cornerstone content.
Check for Unique Content
Google hates duplicate content.
So make sure your content is unique to your website. And with so many folks posting on the Internet, it doesn't hurt to check that no one else has expressed their thoughts the same way by using services like Copyscape, DupliChecker, or similar services. 
Tips for Posting Articles to Your Site
Now that you have your unique content written for other humans, it's time to post, which takes a little thought.
Choosing a Simple URL
Most website platforms (like WordPress, SquareSpace, etc.) will set a default URL that matches the Article Title.
But, depending on your title length, that means a long, cumbersome URL. Luckily, you have an option to shorten in. 
For example, for our article titled, "Get Followers without Paying — Tips for Boosting Your Social Media Presence" we choose the URL exposureone.com/get-followers-without-paying/
Take out words like "the," "a," and "and" while keeping your keyword phrase in the URL, remember that shorter is better.
Adding Images When Writing Blog Posts
Everyone loves a good photo, it adds some interest and "pop" to your article, making it more dynamic than a bunch of words on a page. And a good picture can drive your point home.
When adding images, make sure you do the following:
Use Photos Your Own or Have Licenses To – no using images from a Google Image Search, make sure you have a license from places like 

Shutterstock

, 

Getty Images

, 

Depositphotos

, or similar sites

Save the Images for Web – most images are quite large, which can slow your load times, so before posting, 

save the photos for the web.

Save the Image with Your Keyword and Site Name in the Title
Once you have added the image, make sure to set it as the Featured Image and create a nice preview on Social Media and your blog landing page.
Adding Categories and Tags in WordPress
With articles on WordPress, you have the option of setting a Category and Tags — which you should take advantage of.
For the category, this is a way to bundle individual articles together. When creating your categories, think of how you would organize your articles into five to seven categories, and then assign the article to the category that best fits the content.
You can have multiple tags for each article, using them as an extension of your keywords. They are words or short phrases (no more than 2-3 words) that let folks know immediately what they can expect before reading.
Optimizing Your SEO Meta Information
You're almost ready! You have the content, the URL, your images, tags, and categories, just one final step: configuring your meta description.
Where you find your meta information area depends on your theme and plugin, but most can be found at the bottom of the page or on the side and usually contain a few components.
Meta Keyword – this is where you can select your keyword (or keywords) for your page; your focus keyword should be the priority before including similar phrases

Meta Title – your article title essentially; if you have a long article title it may ask you to shorten it to keep it within view (what a viewer would see if your article appeared in a Google search)

Meta Description – a one to two sentence overview of your article. Keep it brief, include your keyword and make it enticing; this will be shown on social media and Google searches to make people want to click and read.
Content Marketing Services from Exposure One
And you're off! See, writing blog posts and posting doesn't have to be difficult, and with a little time, you'll find yourself reaching more and more users.
Short on time? Not sure where to start? Exposure One offers several Content Marketing Services and Packages tailored to your business. Contact us today to learn more and get started on your posting journey!