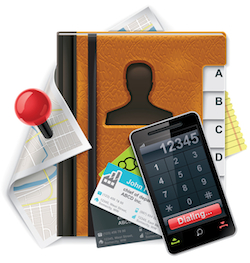 Want to improve your search results for local business?
Then it's time to build citations using these top 25 online directory listings.
Out With The Phone Book and In With Internet Yellow Pages
When was the last time you pulled out a phone book to find a business phone number or address? Most of us grab our smart phone, tablet, or computer. Online directory listings are the Internet version of the Yellow Pages (IYP for short).  They provide information on your business along with a link to your website.
This online reference is known as a citation.  Think of a citation as a vote of confidence. The greater number of citations the more popular or relevant your business appears to search engines.
The most valuable directory listing for local business is the Google+™ Business Page that shows up as a pin in Google Maps™ and local search results. Since the map listings are location based the citations containing a reference to your Name, Address, and Phone Number (or NAP for short) are going to bring the greatest benefits.  So in addition to claiming and optimizing your local Google+™ Business page, it is also essential to build citations.
Why Build Directory Listing Citations?
Most small business owners are looking for effective yet low cost ways to market their company and find customers. Creating directory listing citations fills this need and provides three big benefits:
1. Improves ranking and optimization for Google+™ Local Business Page in search results.
2. Generates direct traffic and calls from people searching for local companies in individual directories.
3. Creates valuable and relevant links to your website that help improve organic search results in the major search engines.
How to Create Directory Listing Citations
The best place to start building citations are the top online directory listings and internet yellow pages. You may find that your business already exists in some of the directories and you just need to claim and update the information. Keep these important pointers in mind:
Pay close attention that all entries for NAP (Name, Address, Phone Number) are an exact match for best results.
Set up a separate email box for creating these listings using gmail, yahoo, or some other free email account. This will make it easy to find the verification emails that some directories send and help reduce your regular inbox from a deluge of future spam.
Be prepared to take phone calls and handle the PIN verification for the directories that require a phone verification. While this is time consuming it helps protect the ownership of your listing and indicates you are dealing with a reputable top level directory.
Stick with the basic free listings as they work fine for building citations. For small business marketing, this money is better spent on a targeted local PPC campaign then it is paying for enhanced listings on all the directories – plus it can really add up.
Take advantage of any opportunity to add photos, taglines, categories, and descriptions using keywords and other SEO techniques, provided it doesn't incur a cost.
Create a spreadsheet to keep track of login information so listings can be updated easily in the future.
Top 25 Free Web Directory Listings For Local Business
In case you are just getting started we have compiled a list of the top 25 free directory listings utilizing NAP to help optimize your Google Places page.
You can claim these yourself, assign to a staff member, or hire the SEO experts here at ExposureOne! We provide a directory listing service as part of our online marketing packages that includes the top 25 below plus 100 additional listings to improve your rankings .
If you're ready to "do-it-yourself" here is a list of the top directory listings sorted by alphabetical order. For your convenience, these will open in a new browser window when clicking on the Title Link.
Angie's List – Create a storefront and manage your reputation on Angie's List which allows members to rate and review contractor and healthcare services.
Best of the Web – Best of the Web Local provides internet users with information on businesses. When local users look for information they are offered relevant results for all businesses in their area.
Bing – To obtain this Bing Local listing you will need a Windows Live ID or use the free signup process to create one. Once the information is completed it will require a PIN verification process either by phone or mail.
City Search – City Guide (City Search & Insider Pages Listings) Create an account but do not enhance the listing or provide credit card information at the end if you just want the free account.
Cityslick – Register a local business profile to reach customers via the map or coupon search tools. Currently the free account is closed to new registration but membership plans start as low as $3.99 per year and max out at $99 for the Diamond lifetime plan.
Dex – There is a link at the bottom of the Dex Knows page that states "Free Online Profile" but getting a free listing with Dex is a bit tricky.  Their preference is to talk with you on the phone in hopes of selling you a monthly package (currently starting at $20 per month).  A traditional yellow page listing will usually show in their online directory or they might pick up a listing from the other sites.  Dex One and Super Media are transitioning to Dex Media so this is in a state of change.
Foursquare – Accessing the Merchant Platform enables you to claim your venue on this social directory for mobile devices. The phone verification process provides a 4 digit PIN to enter into the site for activation or opt for the mail process. Start a campaign to attract new customers or reward loyal customers that check-in online.
Google+™ Business Page – A local Google+ Business Page will literally put you on the map. It requires a PIN verification through the phone or by mail.  You may find that a listing was automatically created and needs to be claimed before you can optimize with photos, hours, videos, posts, and additional information. The Google Places™ business listings are being merged with Local Pages so double check your page is verified and can accept reviews from users.
Hotfrog – Scroll to the bottom of the page to select "Add My Business" to create a free online profile. Validate the listing through email verification then complete with photos and coupons. An AdVantage program is offered for $19.95 a month offering ad-free profiles and enhanced visibility with featured ads.
iBegin – Submit a free business listing for inclusion in the iBegin network then verify by phone using the PIN provided.
Insider Pages – Read detailed reviews from the doctor's patients, search doctors by specialty, insurance & distance and sort doctors by gender, experience & qualifications.
Kudzu – A powerful way to reach ready-to-hire homeowners.
Local.com – Register for a free account with the option to upgrade to a premium listing for $49.95 per month. It's easy to select the premium listing by accident so read the prompts carefully.
Localeze – Register with Localeze to claim a free basic listing in WhitePages.com, YellowBot.com, and over 100 distribution networks for local search. Requires phone validation, entering the PIN into the site, and the completing activation with an email verification. Enhanced listings with photos, taglines, and additional information available for $297 per year.
Manta – Select "Add Your Company" at the top right to initiate the free listing then verify by calling the phone number and code provided online. Manta also offers upgraded listings ranging from $29 to $49 per month.
MapQuest – Creating a MapQuest Merchant Account through the Local Business Center will place your company on their map system. The Basic account is free with the option to upgrade to a Premium account for $8 per month. The manual phone verification process can take up to 90 days but is waived with a Premium account.
Merchant Circle – Follow the steps to setup an account for Free Online Advertising for local businesses. At the end of the setup process you will be offered optional additional services for a monthly fee.
Super Pages by Supermedia – Select "add a free listing" to be included in the Super Pages directory by Super Media. You will also be offered options for pay per click packages, enhanced listings, or extended coverage for additional fees or select "No Thanks" to continue.
Yahoo (Local Basic Listing) — Yahoo offers a free basic local business listing that works fine for the purpose of building citations. They also offer an enhanced listing for $9.95 per month that allows additional features such as photos, logos, coupons, and longer descriptions. Sign in with your yahoo account or create a new one. An email is sent confirming the submission for inclusion. It is important to note these local business listings are different than the Yahoo! Directory which can get pretty pricy at $299 per year.
Yellow Pages by ATT – Registering for this account will add a free listing to the YellowPages.com ran by AT&T. YP by ATT also manages AreaConnect.com. The listing will need to be verified by phone using a computer generated PIN or a $1.00 hold on a credit card before being activated.
YellowBook 360 (HIBU) – Select "Request a Free Listing" and complete the simple popup submission form.
YellowBot – If you don't see your business listed on YellowBot, please add your business listing.
Yelp – If there is an existing listing you will first need to confirm by phone using a PIN verification process. If your business is not already listed you can select to "Add your business" and complete with an email verification.
Yippie – Yippie is a Local business listing.
Zoom Info – Create an account to claim a listing in this business to business directory then confirm through the email verification to complete the business profile.
*GOOGLE is a trademark of Google Inc. This article was written based on research and professional experience. This author, company, and website are not endorsed by or affiliated with GOOGLE Inc. or any other company/site listed above.
Keep Building the Citation Link Love
You don't have to stop at these 25 top directories. It's easy to expand on this list by searching out local directories that cater to your area, city, industry or professional association for building citations.  There are hundreds of online directories plus many more social media and bookmarking sites for creating traffic and optimizing page rank!
While they might cost a little extra, listings with your local  BBB chapter, Chamber of Commerce, Business Journal, or Judy's Book are also valuable for local business and instill confidence with customers.
Don't forget to also create or claim your business page or listing on Facebook, LinkedIn, and You Tube.  While technically categorized as Social Media platforms rather than Local Web Directory Listings they still have citations that include your local address and contact information.