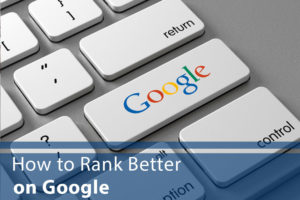 When it comes to online search engines, Google is King. It's just one of those facts of life. This leads to website and business owners always wanting to know how to rank better on Google.
It's times like this that we wish we could wave our magic wands for our clients.
But in fact, ranking on Google takes a little background work and regular maintenance to master their algorithms. And it doesn't happen overnight. Don't let that discourage you — with a bit of thought, planning, work, and time you can find your website climbing the ranks in Google searches.
5 Tips to Ranking Better on Google
Cast a Small Net
No wide nets here. When it comes to ranking, it's best to start with a smaller area and expand. You'll run into less competition that way.
For example, let's say you run an electrician company in Central Florida. That's a pretty big area. So, start with having website pages target specific areas like Orlando, Clermont, Winter Garden, Ocoee, etc. Once you start ranking there, begin to add more website pages that target new areas. Eventually, you'll build your website up to have pages covering all the regions of Central Florida, and you'll start ranking there as well.
Start small and grow.
Add New Content to Your Website
After launching your website, if it just sits there with no new content, Google will start to notice.
And what does that tell them? That you are dormant. That you are not adding new content for your users. That you aren't using your website actively. And all those things don't help you rank well.
Make it a habit to add fresh and unique content to your website at least once a month, with a goal of every two weeks. That can come in the form of new posts, area-targeted pages (see above), revamping current content, and fresh images.
Keep it fresh so that you catch Google's eye.
On-Site SEO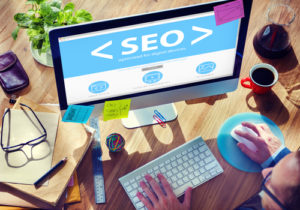 SEO (or search engine optimization) is paramount to ranking well with Google. And it's a wide-term for lots of different things.
Your on-site SEO includes things like:
Meta Tags and Descriptions

Keyword Driven Content

Web Optimized Photos with Relevant Tags

Content with Outward Bound and Inbound Links

Mobile Optimization

Fast Load Times

Easy to Read Content
It's a pretty giant beast (that also comes with a lot of myths). Luckily, if you have a site built by Exposure One, we've handled the SEO for you. If we didn't build your website, we can also review and let you know areas you can improve upon.
Do the work in the beginning to reap the benefits later.
Create a Google Business Listing
When you search for a service or store in your area, notice that on the right side or the first few listings aren't websites, but rather a Map Listing or a brief listing with hours, contact information, and reviews?
Those are Google Business Listings. And they can help you beat out better-ranking websites.
Google prioritizes those that play their game. And with Google Business Listings being FREE, there is no reason you shouldn't be playing ball. 
Work smarter, not harder.
Pay for Your Spot
Like we said at the beginning, improving your ranking on Google takes time. Not very helpful for folks wanting results NOW.
Google has a workaround: pay for your top spot.
But that doesn't mean you get to keep it. As soon as you stop paying, you stop ranking. So, it's essential to be improving your website in the background with the above suggestions.
But sometimes, it pays to pay to play (that how the saying goes, right?).
Ranking on Google may not be instantaneous, but it doesn't have to be hard. With a few improvements and a little monthly maintenance, you can help your online business or website grow and climb the ranks on Google.
Have questions? We have your answers. Contact us today at 407-374-2924.